About Lynn
I try to capture the sense of time passing. I hope that the photographs will be a reminder that we are on the edge of a century in which the fate of many life forms, including our own, will be determined, and the decision of whether to save or relinquish landscapes such as these will be of increasing urgency.
From the Camargue in France, to Sleepy Hollow in New York, then from the Maine coast to California, I searched the countryside by horseback to construct a plea to witness and conserve what is unique about the natural world. I photograph while in movement, mostly from horseback.
I have worked in different geographies and societies. My work includes intimate urbanized spaces, to the wider and wilder parts of American Indian culture and country.
I am motivated by concern for the environment brought about by human relationships to the land that then threaten those relationships.
Biography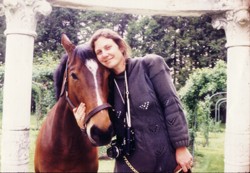 Born in New York, Lives in Thompson Ridge, NY
Education: B.A., Hamilton College, Clinton, NY, 1974
Certificate Program, International Center of Photography, 1984
M.A.E., College of New Rochelle, New Rochelle, NY, 1986
Awards and Grants
2021

Bydale foundation
David G Taft Foundtion
Sun River Health Foundation

2020

Dr Charels Hamlin Family Foundation

1996

The Minestry of Culture, Espace Malraux Scene Nationale Chambery Savioc, France

1994

Juried Show Armory, Palm Beach, FL
Best Art Photographer, Newsweek Selection for I.C.P. Infinity Awards
1st Prize Washington Thoroughbred Associated Art Show, Seattle, WA

1993

Marcus H. Saffran Library Endowment-Univeristy of Medicine and Dentistry of New Jersey-Foundation Grant

1991

Ilford Grant
Polaroid Grant
The Albert Otten Foundation of Living Arts Grant, through the Portland Museum of Art
Rutgers University
Zimmerli Art Museum Printmaking Grant

1990

New Jersey Historical Society Grant
ABOUT . . BOOKS . . GALLERIES . . PRESS . . CONTACTS
Publications
.
Solo Exhibitions
.
Group Exhibitions
.
Collections
.
Short Resume
lynnhbutlerflamesagainstthedark.com

lynnhbutler.com